Salmon Arm
Nestled among the rolling hills surrounding the Shuswap lake, the Salmon Arm branch of Viva Studios seeks to be a pottery haven for students of all skill levels and ages. With over 35 years of ceramic experience between instructors, Jeremy Pawlowicz and Duncan Tweed, we can confidently help you tackle any project from your first hand-built mug to setting up your own personal home studio. Our primary course offering is a six week wheel throwing class for adults though we also offer one night hand-building workshops, youth classes, and specialty firings.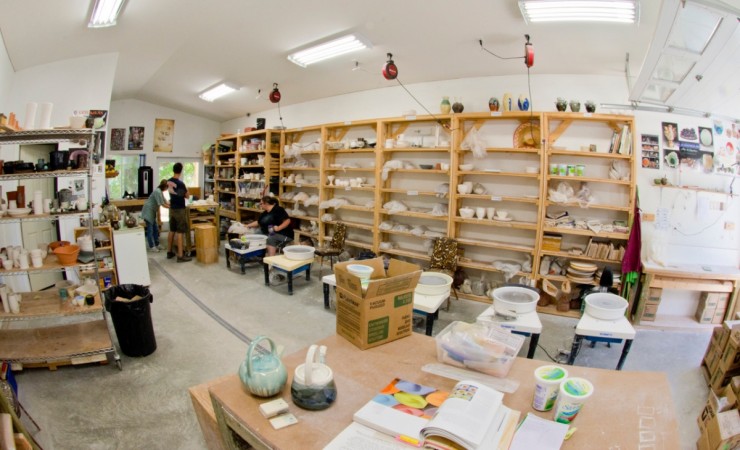 Covid 19 Update

- As of June 22, 2020 we have resumed teaching six week courses. We are taking many safety precautions including requiring students and instructors to wear face covers and limiting class size to allow adequate social distancing. For more information or to sign up call the studio at 778-489-5249 or email at

[email protected]
If all goes well with the reopen we hope to again offer wheel throwing experience nights, kids classes, and handbuilding evenings in the coming weeks. Contact us for more information.
The Salmon Arm studio started as a dream, sketched out in an afternoon and grown over the past few years. It is the place to indulge in a little clay play with amazingly well versed instructors.
The Workshop at Salmon Arm is a place to grow, learn, have fun and be a part of the community. This studio is the first step in some day creating a larger art residency program. The goal is to add many forms of art instruction to the Shuswap area.
Classes are 6 weeks long. Weekly classes are held Monday through Thursday at
9:30am - 12:30pm
1pm - 4pm
6pm - 9pm
Starting Dates:
2020 Schedule
June 22-July 31st
August 3rd- September 11th
September 14th- October 30th
November 2nd-December 11th
December 14th-December 18th

End of year make-up/ pickup of finished work
2021 Schedule
January 11th- February 19th
February 22nd- April 2nd
April 5th- May 14th
Kids classes are held Saturday mornings 9-10 am when there is sufficient interest. We can accommodate 4 students who must be able to take instruction well. For some kids it may be necessary to have a parent present during the class. If there is enough interest we would love to add more classes. Call or email to sign up.
Summer brings new class opportunities, please call to make arrangements. We are very flexible with our class dates and times. We can typically make arrangements for unique circumstances, call or email for more specifics.
Prices
Price

GST 5%

PST 7%

Total

Six Week Pottery Course
*Six sessions, meeting once weekly for 3 hours. We take you through the entire process from wet clay to glazed and fired pottery. No experience necessary.

$195.00

$9.75

$13.65

$218.40

Bulk discount
*Buy ten classes at $32.50 each, get an 11th free. For returning students who want to continue learning we offer a bulk discount punch card.

$325.00

$16.25

$22.75

$364.00

Clay

$32.00

$1.60

$2.24

$35.84

Tools

$30.00

$1.50

$2.10

$33.60

The Wheel Throwing Experience (date night)
*try out the potter's wheel without the commitment of a six week course. Clay, tools, and finishing of the piece by the instructor all included in the cost. No experience necessary.

$49.11

$2.45

$3.44

$55.00

Saturday Kids Class
*one hour handbuilding session held on Saturday mornings. Pieces will be glazed and fired by instructor.

$40.18

$2.01

$2.81

$45.00

Handbuilding Night, 3+ Students
*Complete various handbuilding projects to be glazed by your instructor. Project options include mug, platter, vase, and much more (glazing included in price)

$44.64

$2.23

$3.13

$50.00

Open studio
*Friday 1-5

$26.79

$1.34

$1.88

$30.00

Raku/Horsehair firings
*Includes three mug-sized pieces, additional fee for more space

$45.00

$2.25

$3.15

$50.40
Please Call or Email to Register. 778-489-5249 [email protected]